Biography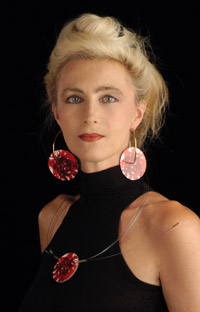 Unlike wood or stone - materials that have been used by artists for thousands of years - steel is a relatively new material. In the 1930s, artists - among them Picasso and Gonzales - created their first sculptures from old and used metals. With regard to its unique quality and highly demanding methods of processing, steel offers manifold possibilities for artists to realize their ideas for various works of art.
My steel sculptures as well as the jewellery I create from steel display extravagancy but do not attempt to please the spectator. Both with regard to form and content there are parallels between the steel sculptures and the jewellery I design. The jewellery attracts the spectator's attention because of its unusual size - bigger than average - and unorthodox mix of materials.
Very frequently geometrical shapes and bodies serve as a basis for my designs. These are consequently multiplied, ranked, put in order, but may also appear disarranged. Finally, the harmonious structures convey a touch of playful lightness by the spontaneous re-structuring within the planned frame.
Curriculum Vitae
1955
born in Schwarzach/Salzburg
1974
Matura at Musisches Gymnasium/Salzburg
1974-1976
German and Slavonic studies/Salzburg
1976-1979
Universität Mozarteum/Salzburg/
Institut für Kunst und Werkpädagogik/Lectureship/Mag.art.
1980
Jeweller apprenticeship/Artist acknowledgement by BmUK
1983-1990
Universität Salzburg/Art history studies/Dr. phil.
1995-1998
Teaching assignments for art history, Universität Salzburg/
Department of art history
1986-1998
Teaching assignment/Jewellery design/Universität Mozarteum/Salzburg
1988-1990
educational and scientific assistant at
Museum Rupertinum/now Museum der Moderne, Salzburg
1993
Fachhochschule Düsseldorf/Jewellery studies/Metal design/
Prof. Holder und Hermsen; Atelier in Salzburg
1996-2002
Teaching assignment for art history at Mozarteum/Salzburg
since SS 2002
Teaching assignments for teaching methodology of arts, seminars/Mozarteum
2003-2004
Teaching assignments for New Media and PR management/Mozarteum
since 2007
Teaching assignments for art education/Universität Salzburg
Emphasis: Metal statuary and Jewellery design
1991
"Schmuck" Galerie CEBRA/Düsseldorf
"Email jetzt" Museum f. Angewandte Kunst/Cologne
1993
Ateliergalerie Nonntal
Gal. ARTEFACT/Wien
Museum Benesov/Tschechien
"QUASI MODA II" Art & Fashion performance/Ludwig-Forum/Aachen
Museum für Angewandte Kunst/Cologne
Hasselt/Belgium
1994
"Wen verführst Du Thamar?" - Residenzgalerie Salzburg
"Quasi - MODA III"/Ludwig-Forum Aachen/Würselen
1997
"Körperdimensionen" BV/Salzburg
"Something happens"/Max-Gandolph Bibliothek/Salzburg
Museums Pavillon/Salzburg
1999
Romanischer Keller, Salzburg
Galerie DREI/Dresden
2003
Galerija Daugava, Riga/Latvia
Kanzleizentrum Steiner/Salzburg
2004
OKA Wels/Upper Austria/Stahlplastik und Schmuck
2003-2009
Participation at the international "Stahlsymposium" in Riedersbach/Upper Austria
2005
"Schmuck"/Palazzo Frangipane/Targento(Udine)
2006
"Verbindung"/BV Salzburg
"Frauenzimmer"/BV Salzburg
2007
"Stahlplastiken": Kunstmeile Trostberg/Bayern
2009
"Export"/BV Salzburg
"Stahlplastiken": Kunstmeile Trostberg 2009
2011/13
Kunstmeile Trostberg
International "Stahlsymposium" Riedersbach
2013/15
Trostberg, Kunstmeile
| | |
| --- | --- |
| | - Slatner(Weihs) Michaela, Das Bildnis und seine Sprache - Ausstellungskatalog Rupertinum Salzburg, 1990 |
| | - Michaela Weihs, Spätgotische Perlmutterschnitzereien und ihr Bezug zur Druckgraphik des 15. Jahrhunderts, in: Inge Lovcik(Hrsg.), Salzburger Studien zu kunstgeschichtlichen Themen, Eigenverlag des Vereins der Freunde des Institutes fÜr Kunstgeschichte, Salzburg 2000, S.70 ff. |
| | - A range of various acacdemic publications on contemporary art and works by contemporary artists, i.a. Dietmar Erlacher/Salzburg, Constance Ferdiny-Hoedemakers/Holland-Vienna, Heinz Husiatynski(+1995)/Salzburg, Heribert Jascha/Vienna, Christiane Pott-Schlager/Salzburg, Erich Schaber/Vienna, Volker Uiberreither/Salzburg, collaboration on the Stahlparkkatalog Riedersbach 2008. |
| | |